Back to all posts
Posted on
We're Open for Business!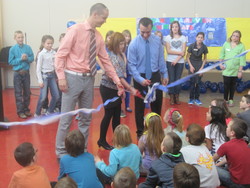 Our Vulcan Prairieview Junior ATB opened with a bang this week. Students worked hard to create our own bank branch, learn their jobs and create an exciting grand opening complete with speeches, ribbon cutting, prizes and food!
Many students in Grades 3-6 opened their own accounts and made their first deposits. Students can still sign up for their own account throughout the year. Bank days will happen approximately every two weeks so watch the Post, our website, Facebook page and agendas for the upcoming deposit days. It was also great to see parents and local media representatives on hand.
Thank you to the ATB employees and in particular in Mr. Shaw for working with us on this exciting opportunity to improve our math and leadership skills.
We would also like to thank Mrs. Helland for all of her work in getting the bank branch off of the ground.
All the employees should be very proud of their hard work and how successful the day was. It promises to be an exciting year at the bank!