Back to all posts
Posted on
URSTRONG Day of Friendship Coming to Grade 3/4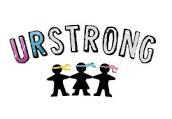 We're excited to be hosting URSTRONG, an internationally recognized Social Emotional Well being program, that empowers children with the skills, language and self-confidence to be better friends and develop healthier relationships. To learn more about URSTRONG and their programs please watch a short video describing the impact of URSTRONG on children and parents around the globe here.
URSTRONG's Day of Friendship will take place for our Grade 3/4 students on Monday, October 23rd.  Students are asked to bring along a doll, teddy or action figure to use for some role playing throughout the day.
Our entire school has been focusing on social-emotional learning programs, such as this program and The Leader in Me, implementing tools and strategies to support our efforts in creating a safe and caring school. We believe that empowering our students with these skills will create a school community where children are better able to manage their relationships in a safe and respectful environment.
Many thanks to FCSS for paying for the cost of this wonderful program and for helping to get it all organized for us.  Please don't hesitate to get in touch with us if you have any questions!