Back to all posts
Posted on
Swimming Starts on Tuesday, May 25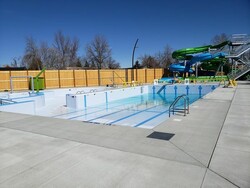 VPE Swimming Gr. K-6 2021
We get to go swimming!! We are so excited to be able to go and use the new swimming pool!
Students will need proper swim gear and a towel, to be carried in a sturdy bag. PLEASE label everything! It would be very helpful if your child came to school with their swimsuit under their clothes. We are limited as to how many we can have in the change room at one time.
Please refer to the attached schedule to see your child's swimming times. We will leave to walk to the pool approximately 15 minutes before to be sure they are ready to start.  and will be swimming unless the lifeguards decide it is unsafe to do so. (The water feels quite warm on those chilly days so always send their swimming gear.) The lifeguards will be dividing each class of students into groups to provide instruction. Life jackets are provided and all students will wear them when the lifeguards ask them to.  Sunscreen should be applied as well on those sunny days. 
If you have any questions or concerns, please contact your child's teacher at 485-2074 or make a note in their agenda.
VPE Swimming 2021
Monday

Tuesday

Wednesday

Thursday

Friday

May 24




Victoria Day

25

9:00-10:00 Kopustas

10:00-11:00 Dyck

11:00-12:00 Dawson





26

9:00-10:00 Thompson

10:00-11:00 Giesbrecht

11:00-12:00 Meehan

27

9:00-10:00 Bianchini

10:00-11:00 Helland

11:00-12:00 Meehan

28

10:30-11:30 Wickstrom

31

June 1

2

3

4

7

8:45-9:45 Thompson

8

9

10

11





14

10:30-11:30 Wickstrom

15

9:00-10:00 Kopustas

10:00-11:00 Dyck

11:00-12:00 Dawson

16

9:00-10:00 Thompson

10:00-11:00 Giesbrecht

11:00-12:00 Meehan

17

9:00-10:00 Bianchini

10:00-11:00 Helland

11:00-12:00 Meehan

18

8:40-9:40 Dawson

9:50-10:50 Helland

11:00-12:00 Dyck

21

9:00-10:00 Bianchini

10:00-11:00 Wickstrom

11:00-12:00 Meehan

22

9:00-10:00 Kopustas

10:00-11:00 Giesbrecht

11:00-12:00 Meehan

23

Year end activity

24

Year end activity

25