Back to all posts
Posted on
Preschool 2020-2021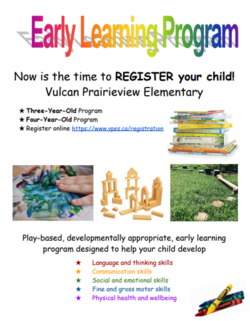 We have had many inquiries about whether or not there will be preschool this year.  We are happy to say that yes, we will have both a 3-year-old program and a 4-year-old program.  For students who are hoping to attend the 3-year-old program, they must be 3 by September 1.  Our program is a play-based, developmentally appropriate early learning program that is designed to help your child develop:
language and thinking skills
communication skills
social and emotional skills
fine and gross motor skills
physical health and well-being.
We want to ensure we are providing the safest environment we can for our students.  Because our preschool is run through the school, we are still waiting to hear which provincial re-entry guidelines we follow for preschool (if we follow the school guidelines or the preschool guidelines).  Once we know more, we will be in touch with our families to provide them with more information.  In the meantime, click here if you'd like to register your child in preschool. Children who were in our preschool program last year and are wanting to continue do not need be re-registered as their registration will carry over to this year.