Back to all posts
Posted on
Pick-up of Students' Personal Items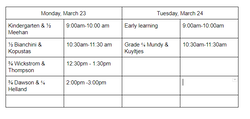 Reminder that you can come and pick up belongings today.
We have tossed around the matter of how best to get the student belongings back to them in a way that protects the health and safety of everyone and follows the guidelines set out by the Government of Alberta and Alberta Health Services. We want to minimize the contact that people are having so, with that in mind, we have come up with a schedule (see schedule below) of when people can come and pick up their children's belongings. We will ask that you come to the front of the school but remain in your vehicle (unless you are walking). Staff members will deliver the bags with your students' stuff right to your window (much like a drive-thru!), thereby reducing your risk of having to come into the building. If this scheduled time does not work for you, please don't hesitate to call the school and we can arrange another time that works for you. We realize that some families have multiple children. Please plan to arrive at the scheduled time for your youngest child (or alternately arranged time) and we will deliver the belongings for all of your children at the same time.
Starting next week, we will also have the lost and found items on a table outside the school. Feel free to stop by any time during the day to take a look and retrieve any items that belong to your children. Any items left after next week will be taken to the thrift store.