Back to all posts
Posted on
Mental Health Week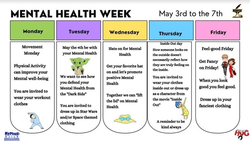 The week of May 3 to 7 is both Education Week and Mental Health Week so we will be having special spirit days all week long in the theme of mental wellness.  
Movement Monday - Physical activity can improve your mental well-being.  You are invited to wear your workout clothes.
May the 4th be with your Mental Health - We want to see how you defend your Mental Health from the "Dark Side".  You are invited to dress up in Star Wars and/or space themed clothing.
Hats on for Mental Health - Get your favourite hate on and let's promote positive mental health.  Together we can "lift the lid" on mental health.
Inside Out Day - How someone looks on the outside doesn't necessarily reflect how they are truly feeling on the inside.  You are invited to wear your clothes inside out or dress up as a character from the movie "Inside Out".  A reminder to be kind always.
Feel-good Friday - Get fancy on Friday.  When you look good, you feel good.  Dress up in your fanciest clothing!