Back to all posts
Posted on
Junior ATB Grand Opening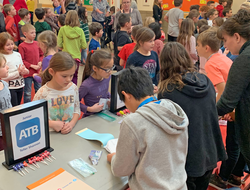 Young students get a taste of workplace realities
Leadership skills and financial literacy also benefits of Junior ATB Program at VPES
VULCAN – Brooklynn Kendell is climbing the corporate ladder. After working as a bank teller last year, she's been promoted to the position of Chief Executive Officer.
While such a meteoric rise is unlikely in the real world, the benefits of the Junior ATB Program are genuine for the 11-year-old and her fellow Vulcan Prairieview Elementary School students.
The Palliser school recently celebrated the grand opening of its Junior ATB Branch, a working bank complete with tellers, promotional staff and a Board of Directors.
Brooklynn believes the hands-on learning opportunity will provide a leg-up when she is ready to enter the workforce for real.
"I think it will, because I will have the experience in being a leader," says the Grade 6 student. "And last year having an experience in money and getting schooled what to do, and being able to act under pressure when the lines were really long."
Lori Helland has been the teacher-liaison with the Junior ATB program for all seven years it's been run at VPES. The overall goal, she says, is to engage students in workmanship and leadership surrounding the bank.
"It's such a huge leadership opportunity, but then they also learn that work part and that sense of ownership about their jobs and responsibilities with the bank," says Helland, adding the latter is hard to find in the curriculum for younger students.
David Lyon, Branch Manager of ATB Financial Vulcan, took part in the grand opening and he and staff members are there to assist and oversee the two dozen students each banking day at VPES. Their aim is to help the students – both those working behind the counter and those depositing their money – improve their financial literacy.
"We hope that this gets the kids thinking about saving and working towards savings goals early in life, so hopefully by the time they grow up and they are adults they will have some better saving habits and a little bit of a start in financial literacy," he says, after handing out lollipops to students making deposits.
This is Lyon's fourth year taking part in the Junior ATB Program. While he says they want to keep it a fun experience for the students, it's important they treat it like a real job as much as possible. Each year students fill out applications for the available positions and then job interviews are held.
Grade 6 student Cameron Akitt held the position of back cash last year, which was a good fit given math is his favourite subject. He successfully applied for the position of Vice-CEO this year.
"It sounded fun and I thought it would be a good experience to learn," says the 11-year-old. "And I'm not really good at public speaking so I wanted to push myself outside of my comfort zone and do that."
Helland says the job interviews are done by ATB staff and the students take it quite seriously, often dressing up and rehearsing the scenario at home with their parents. The value of that process shouldn't be overlooked either.
"There are kids who probably hit senior high and want a job but have never had a job interview. At least these kids have been through something kind of like that," she says.
Perhaps some of the young Prairieview 'bankers' will come to Lyon looking for a job one day.
"There are some really bright kids here. That would be really great if that's what happened, and in the future they grow up and come work at ATB," he says.
Successful applicants for the Junior ATB program are trained, provided with responsibilities and assigned shifts. Helland points out the program and banking hours are limited to lunch hours and if the student has a conflicting event like intramurals they know the 'job' comes first.
Although Brooklynn enjoyed her time as a teller, she looked forward to providing leadership as the boss, and "making sure everyone at the bank is happy and liking their job."
The Board of Directors is accountable for more than employee satisfaction. They are responsible for determining matters such as banking days, promotions to encourage new accounts and how the budget is spent. They are provided with $1,000 from ATB Financial, with half of that going to business expenses and half to be given out as grants – whether that is for school projects, or to community charities.
While only Grade 5 and 6 students can hold jobs at the Junior ATB Branch, everyone at VPES can take out a savings account, which carries no fee and a 0.1 per cent interest rate. To eliminate the need for a cash float on hand, only deposits can be made at the school, although students accompanied by an adult can make withdrawals from ATB Financial Vulcan. Community members with an account at that institution can also make deposits at the VPES branch.
Name aside, the Junior ATB Program wouldn't be possible without the efforts and support of ATB Financial and Helland expressed her appreciation on behalf of VPES.
"It's been a wonderful program from the very beginning, so we are very grateful," she says.
For more information, please contact:
Craig Albrecht, Communications Specialist
Phone: 403-328-4111 ext. 241
Toll-free: 1-877-667-1234
Cell: 403-330-6428
Email: craig.albrecht@pallisersd.ab.ca