Back to all posts
Posted on
Family Math Games Night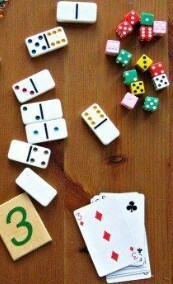 We will be hosting our very first FAMILY MATH GAMES NIGHT on February 4th. We would love to have all of our families join us for a night of socialization, fun and learning.
Dinner: 6:30 pm
Games: 7:00 to 8:00
Please RSVP by January 24th.
For kids:
A great night to be with family and friends
A fun way to review and strengthen basic math skills!
For parents:
Motivating, simple and economical homework support
Strategies, tips and tricks to help your child with math!
Children who feel secure in their math skills have greater self-esteem and greater success in math!
Games reinforce:
Counting
Basic facts: +,-, x,÷
Problem solving
Place value