Back to all posts
Posted on
New Teachers at VPE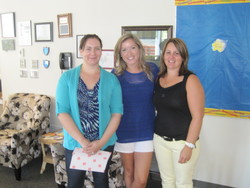 We are all excited to welcome some new faces to VPE. Along with many new students, we also have some new staff members.
Here they are so you can say hello when you see them in the school!
Mrs. Booker – Mrs. Booker will be teaching Grade 3/4 this year.
Miss Edmonds – Miss Edmonds will be teaching in Grade 5/6 this upcoming year.
 Mrs. Booth- Mrs. Booth will also be joining the Grade 5/6 teaching team.