Back to all posts
Posted on
Keyara Wardley at the Olympics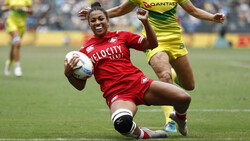 Keyara Wardley, a former student at Vulcan Prairieview Elementary, is representing Canada at the Olympic Games in Tokyo on the Woman's National Rugby Team.
Keyara has worked so very hard to get to this point and has realized her lifelong Olympic dream to play for Team Canada. It is a tremendous  and much-deserved honor for her to represent her country at this level of competition.
We are so very proud of Keyara and wish her and all of Team Canada all the best at the Olympics!